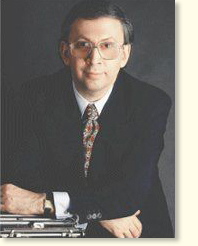 Konstantin Monastyrsky founded Okna Corporation in 1991 after recognizing the commercial potential in DeskTop Set – the very first personal information manager for Microsoft Windows that he had invented, designed, and originally programmed completely by himself. The word 'okna' means 'windows' in Russian.
DeskTop Set quickly received wide acclaim and repeatedly captured the industry's key editorial awards - Editor's Choice, Best Buy, Experts' Pick, and five-star ratings from all major software portals, including C/Net, ZDNet and IDGNet.
In 1993 Mr. Monastyrsky secured private financing, and recruited a team of advanced programmers, designers, and testers in Moscow, Russia. This "off-shoring" effort was precipitated by the scarcity of Windows programmers in the United States, inadequate capitalization, and Mr. Monastyrsky's fluency in the Russian language.
In 1994 Mr. Monastyrsky relocated to Moscow, and supervised the design and development of version 5 and 6. Overall, the program's size increased from about 250,000 lines of code in version 4 to over 1.5 million in version 6.5, making it one of the most complex Windows production systems at that time.
In 1996 Mr. Monastyrsky started to experience debilitating health problems related to the complications of type 2 diabetes, precipitated in large part by his 'obsession' with a vegetarian lifestyle (very much like Steve Job's current health problems related to identical fallacy). He returned to the United States, and continued to manage Moscow's development team 'remotely.'
Despite DeskTop Set's commercial and editorial acclaim, Okna Corporation was closed in the summer of 1998 at the behest of its investors, who had been discouraged by the free (at that time) distribution of Microsoft's Outlook organizer with Windows and, later, with Microsoft Office. At that time DeskTop Set was in use at over 50,000 client sites.
In hindsight, it also became apparent that Mr. Monastyrsky's health-related problems contributed to Okna's unexpected demise. Had he been in better shape to 'fight,' he wouldn't have had any difficulties transitioning Okna to another operational model. Alas, after a decade-long marathon of high-pressure business development, he wasn't!
Despite the odds, DeskTop Set lives and remains one of the longest-running general applications for Microsoft Windows. Amazingly, the clients who began using DeskTop Set back in the early nineties are still using the same address book files they started with back then. And that's real longevity!
It probably won't surprise you to learn that Mr. Monastyrsky's current work is also connected to productivity, health, and longevity, albeit in a very different field, and with even more profound implications than have his considerable contributions into the development of a contemporary software paradigm.